Fri Jun 7, 2019, 12:35 AM
Eugene (49,033 posts)
Hong Kong court: Denying same-sex spousal benefits unlawful
Source:
Associated Press
Hong Kong court: Denying same-sex spousal benefits unlawful
By KATIE TAM
June 6, 2019
HONG KONG (AP) — Hong Kong's Court of Final Appeal said Thursday the government cannot deny spousal employment benefits to same-sex couples, in a ruling hailed as a major step forward for same-sex equality in the semi-autonomous Chinese territory.
The court overturned an earlier judgment, saying unanimously that denying same-sex couples access to spousal benefits is unlawful.
"It follows therefore that the 'prevailing views of the community on marriage' ... even if this can confidently be gauged in the first place, are simply not relevant to a consideration of the justification exercise," the ruling said.
Although same-sex marriage is not recognized in Hong Kong, the judgment appears to move the territory further in that direction. Last year, the Court of Final Appeal ruled that the same-sex partner of a British expatriate married abroad was entitled to the same visa treatment as a heterosexual partner under immigration law.
Angus Leung, a senior immigration officer who brought the case on behalf of himself and his partner, Scott Adams, said the ruling was the culmination of a stressful four-year process.
-snip-
Read more:
https://apnews.com/df5ef7a6fb3244838c1224a99afef59d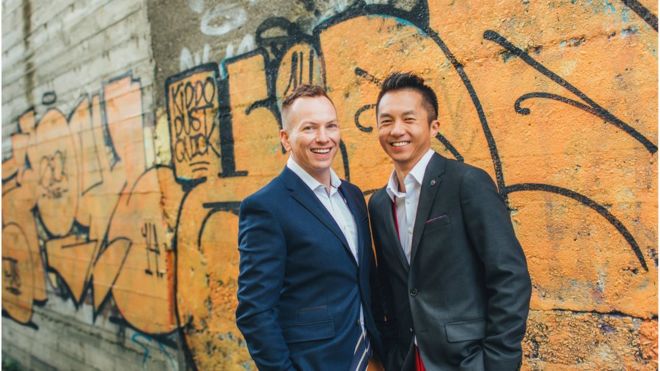 Mr Leung and Mr Adams have won their appeal after four years (Angus Leung)
______________________________________________________________________
Source:
BBC
Gay Hong Kong civil servant wins spousal benefits after four year battle
6 June 2019
Hong Kong's top court has ruled in favour of a gay civil servant applying for spousal and tax benefits for his husband, in the latest victory for the city's LGBT community.
Angus Leung, a local immigration officer, had in 2014 legally married his husband Scott Adams in New Zealand.
But back in Hong Kong, Mr Adams was unable to access the benefits civil servants' spouses are entitled to.
The couple later sued the government, starting a four-year-long lawsuit.
-snip-
Read more:
https://www.bbc.com/news/world-asia-48538893
0 replies, 387 views