Sun May 24, 2020, 07:43 AM
Omaha Steve (73,785 posts)
Joe Biden wins Hawaii presidential primary delayed by virus
Source:
AP
By AUDREY McAVOY
HONOLULU (AP) — Joe Biden won the Democratic Party of Hawaii's party-run presidential primary on Saturday, which was delayed by more than a month because of the coronavirus.
Biden defeated Vermont Sen. Bernie Sanders 63% to 37%.
Biden won 16 of Hawaii's delegates and Sanders will take eight. Biden has a total of 1,566 delegates to the party's national convention, according to the count by the Associated Press. He needs 1,991 delegates to win the nomination, a threshold he is projected to reach in June.
A total of 35,044 voters cast ballots in the party-run primary. All ballots were cast by mail.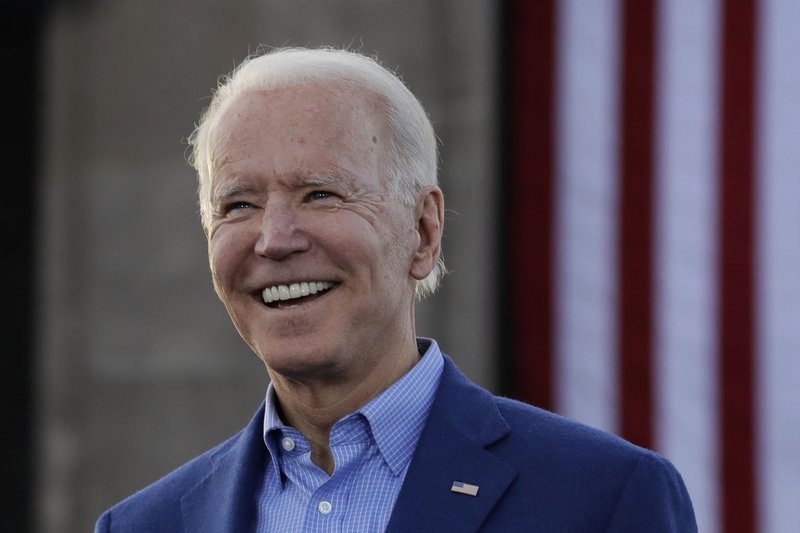 FILE - In this March 7, 2020, file photo, Democratic presidential candidate former Vice President Joe Biden acknowledges the crowd during a campaign rally in Kansas City, Mo. Biden has won the presidential primary in Hawaii. The results were announced Saturday, May 23, 2020. The party-run primary was delayed by more than a month because of the coronavirus. (AP Photo/Charlie Riedel, File)
Read more:
https://apnews.com/1e1e9af1cabb0881dd92f12d7d245a60
5 replies, 622 views
Replies to this discussion thread
| | | | |
| --- | --- | --- | --- |
| 5 replies | Author | Time | Post |
| Joe Biden wins Hawaii presidential primary delayed by virus (Original post) | Omaha Steve | May 24 | OP |
| | Tom Rinaldo | May 24 | #1 |
| | R B Garr | May 24 | #2 |
| | Polybius | May 24 | #4 |
| | R B Garr | May 25 | #5 |
| | mahina | May 24 | #3 |
---
Response to Omaha Steve (Original post)
Sun May 24, 2020, 12:03 PM
Tom Rinaldo (20,947 posts)
1. I am happy to unite behind Joe
But I think the Democratic Party needs to take note of the fact that Bernie Sanders frequently still wins over a quarter of the vote in our primaries long after he suspended his campaign and backed Biden. That's a lot of people going to the trouble to participate in a presidential primary to vote for someone other than the presumptive nominee now that the nominee no longer in any doubt.

It's cool, no one is challenging Joe, he will become our leader. But Biden's VP pick should give a nod toward the aspirations of younger and frequently more progressive voters who did not flock to his side initially. That will help us enter this election season firing on all cylinders.
---
Response to Omaha Steve (Original post)
Sun May 24, 2020, 12:40 PM
R B Garr (14,432 posts)
2. Sanders has gotten crushed once again and that is the consistent message here.
Despite the strategy that continuing to vote for Sanders will result in a backdoor win, that hasn't happened. Voters don't want what happened in 2016 again.
---
Response to R B Garr (Reply #2)
Sun May 24, 2020, 10:57 PM
Polybius (3,718 posts)
4. 37% is a lot though for someone who dropped out and endorsed Biden
I am surprised he got that much.
---
Response to Polybius (Reply #4)
Mon May 25, 2020, 07:57 AM
R B Garr (14,432 posts)
5. The standards aren't different for a huge Bernie loss.
People don't have to win by 100% for it to be a real Bernie loss. Their strategy has been well known for awhile now regarding continuing to vote for him.
---
Response to Omaha Steve (Original post)
Sun May 24, 2020, 05:06 PM
mahina (11,695 posts)
3. You know I read it here first? Funny ya? Anyway remember in 2016 it went 69-30% w 33,655 votes.
This year we have 33,552 votes, and
Joe 21,215. 63.2
Bernie 12,337. 36.8

We had a huge influx of people who had never voted before last time and were certain that they were being messed with. They would not listen to any facts about the voting process being candidate neutral, that they ARE the party, none of it.

How we reach out in our own communities to those 36.8% before they drink the bs 'both parties are the same, no point in voting" bullshit that is being peddled to them without them even being aware of it.

/I was for Bernie in the primary both years but worked my heart out for Hillary. Looking back, there was more I could do. Looking for suggestions other than phone banking and giving money.

I'm also interested to know how Joe will fight Big Pharma and the credit card companies.

Not asking him to make a statement that will put a target on his back.

This is where we wade into the grey area that depends us discerning the values of the candidate.

I loved listening to him on Colbert. If you haven't heard it, please check it and share. I thought surely it's just a few minutes long but it was indeed the whole 50 minutes, sorely need more like that, long airtime to let the man talk and be heard. Young people keep telling me they are hearing crickets from him. Of course their incoming messaging is being managed by algorithyms designed to silence Joe, imho.