Sat May 23, 2020, 06:55 PM
appalachiablue (25,524 posts)
Coronavirus: New York State Daily Death Toll Drop Below 100
Source:
BBC News
New York state's daily death toll has dropped below 100 for the first time since late March.
A total of 84 people died in the last 24 hours, Governor Andrew Cuomo said on Saturday, compared with 109 a day before.
During the height of the outbreak in April, more than 1,000 people a day were losing their lives in worst-hit US state. "In my head, I was always looking to get under 100," Mr Cuomo said.
"It doesn't do good for any of those 84 families that are feeling the pain," he said at his daily briefing, but added that the drop was a sign of "real progress"...
Read more:
https://www.bbc.com/news/world-us-canada-52786342
---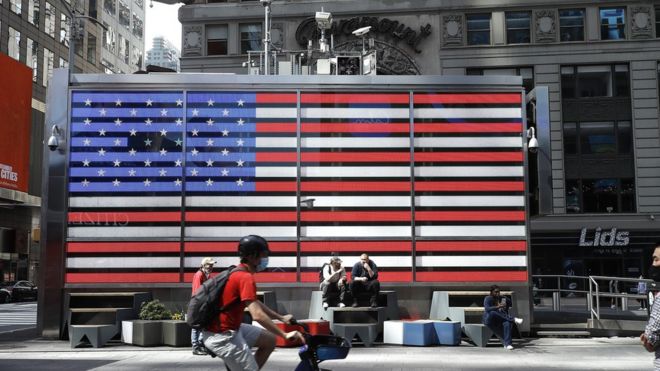 4 replies, 950 views
Replies to this discussion thread
| | | | |
| --- | --- | --- | --- |
| 4 replies | Author | Time | Post |
| Coronavirus: New York State Daily Death Toll Drop Below 100 (Original post) | appalachiablue | May 23 | OP |
| | SunSeeker | May 23 | #1 |
| | nitpicker | May 23 | #2 |
| | paleotn | May 23 | #3 |
| | SergeStorms | May 24 | #4 |
---
Response to appalachiablue (Original post)
Sat May 23, 2020, 07:20 PM
SunSeeker (40,614 posts)
1. NY's downward numbers are hiding the surges in the rest of the country in CDC US totals. nt
---
Response to appalachiablue (Original post)
Sat May 23, 2020, 09:14 PM
nitpicker (6,168 posts)
2. Daily I go through the Johns Hopkins University US numbers and state website numbers
The actual answer is that Right Now, we are seeing the benefits of pre-May closures, as JHU death figures rose by about 13200 in the preceding 10 days. A far cry from the 2500 or so a day during the recent peak.

BUT if "beach bliss" turns into "suddenly sick", even more dreadful headlines will reappear.
---
Response to appalachiablue (Original post)
Sat May 23, 2020, 09:14 PM
paleotn (7,611 posts)
3. Say what you want about Cuomo....
The view from across the border is....he's done a hell of a job. The right man in the right place at the right time. So has our Gov. Scott. The impact of tourist season scares the shit out of me though. Right now, lodging is open to only Vermont residents or out of staters who've quarantined for 14 days. That may change by June 15, so we shall see. It's life blood up here, so Scott may be under undue pressure to open faster than he should.
---
Response to paleotn (Reply #3)
Sun May 24, 2020, 12:28 AM
SergeStorms (7,906 posts)
4. I've even had a few honest republicans...
(I know, is there even such a thing as an honest republican?) tell me that they still hate Cuomo, but he's done a "pretty good" job of handling the states virus outbreak. I imagine it took every bit of their courage to say that to me.