Sat May 23, 2020, 11:39 AM
Omaha Steve (73,983 posts)
British leader's aide denies 250-mile trip broke virus rules
Source:
AP
By JILL LAWLESS
LONDON (AP) — British Prime Minister Boris Johnson's top adviser, Dominic Cummings, insisted Saturday that he behaved "reasonably and legally" when he traveled more than 250 miles (400 kilometers) to his parents' house during a nationwide lockdown at a time when he suspected he had the coronavirus.
Opposition politicians called for an urgent explanation after The Guardian and Mirror newspapers reported that Cummings, who lives in London, was seen at the property in Durham, northeast England, in late March and early April. A lockdown that began March 23 stipulated that people should remain at their primary residence, leaving only for essential local errands and exercise, and not visit relatives. Anyone with symptoms was told to completely isolate themselves.
Durham Police said that officers went to a house on March 31 and "explained to the family the guidelines around self-isolation and reiterated the appropriate advice around essential travel." Police did not mention Cummings by name.
Johnson's office said in a statement that Cummings made the trip because his wife was showing coronavirus symptoms, he correctly thought he was likely to also get sick, and relatives had offered to help look after the couple's toddler son. It said Cummings stayed in a house "near to but separate from" his extended family.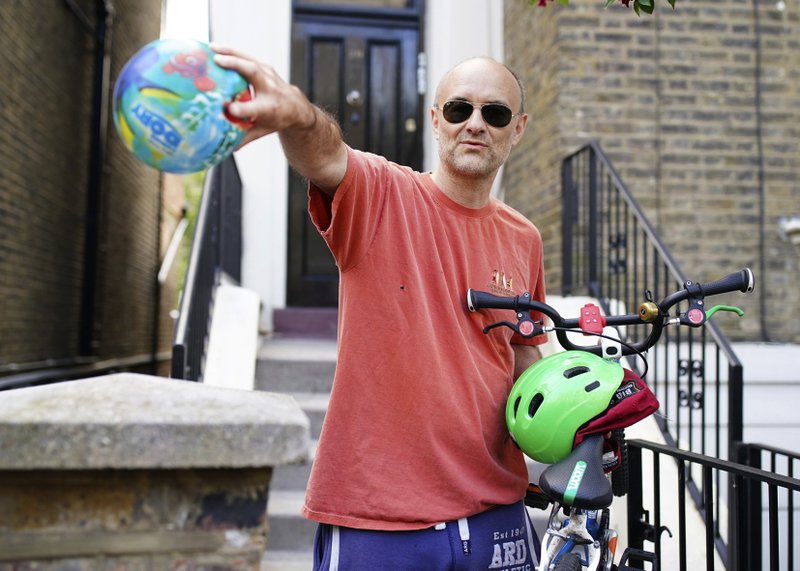 Britain's Prime Minister Boris Johnson's senior aid Dominic Cummings leaves his north London home, in London, Saturday May 23, 2020. The British government faced accusations of hypocrisy on Saturday after the revelation that Prime Minister Boris Johnson's top adviser Cummings, traveled more than 250 miles (400 kms) to his parents' house during a nationwide lockdown while he was showing coronavirus symptoms. (Aaron Chown/PA via AP)
Read more:
https://apnews.com/7ab40ac1bca8ee83bda953398975eb7a
5 replies, 948 views
Replies to this discussion thread
| | | | |
| --- | --- | --- | --- |
| 5 replies | Author | Time | Post |
| British leader's aide denies 250-mile trip broke virus rules (Original post) | Omaha Steve | May 23 | OP |
| | GoneOffShore | May 23 | #1 |
| | DavidDvorkin | May 23 | #2 |
| | 47of74 | May 23 | #3 |
| | muriel_volestrangler | May 23 | #4 |
| | Denzil_DC | May 23 | #5 |
---
Response to Omaha Steve (Original post)
Sat May 23, 2020, 12:42 PM
GoneOffShore (14,432 posts)
1. Heard him this AM on the BBC. He's a self righteous shit.
---
Response to Omaha Steve (Original post)
Sat May 23, 2020, 02:19 PM
DavidDvorkin (17,537 posts)
2. It's Okay If You're A Tory, I suppose.
---
Response to DavidDvorkin (Reply #2)
Sat May 23, 2020, 05:54 PM
47of74 (18,289 posts)
3. Same thing happens across the pond too
Where Republican officials think the law is good for other people but not so much for them. Even a few Democrats (Pritzker, Lightfoot, et al) have gotten out on do as I say not as I do kicks, whether it's for getting hair professionally done while having hair salons/barbers shut down or sending families off on vacation while telling everyone else to stay home.
---
Response to Omaha Steve (Original post)
Sat May 23, 2020, 07:21 PM
muriel_volestrangler (93,666 posts)
4. New witnesses cast doubt on Dominic Cummings's lockdown claims
A week earlier Cummings was seen by another witness in Barnard Castle on Easter Day, 30 miles away from Durham, the investigation found. The town, which takes its name from the English Heritage site at its centre, is a popular destination for days out.
Robin Lees, 70, a retired chemistry teacher from the town, says he saw Cummings and his family walking by the Tees before getting into a car around lunchtime on 12 April.
...
When Cummings was apparently recognised a second time on 19 April, he was wearing his trademark beanie hat, and was heard commenting on how "lovely" the bluebells were during an early morning Sunday stroll with his wife Mary Wakefield.
The second eyewitness, who declined to be named, said: "We were shocked and surprised to see him because the last time we did was earlier in the week in Downing Street."
https://www.theguardian.com/politics/2020/may/23/new-witnesses-cast-doubt-on-dominic-cummingss-lockdown-claims
In April, the rules were specifically that you shouldn't be driving elsewhere to take a walk. And the 2nd sighting would mean he went back to London, then returned to Durham again. So this was not just about being close to his sister in case both he and his wife got too ill to look after their child, which had been his excuse.
---
Response to muriel_volestrangler (Reply #4)
Sat May 23, 2020, 09:48 PM
Denzil_DC (5,071 posts)
5. The rules ever since lockdown began have been that if you have symptoms
- as both Cummings and his wife claim they had during this period - you go into quarantine at home and do not leave for any reason short of hospitalization or going for testing, and anyone sharing your home must also self-isolate. They don't say anything about it being OK to hightail 250-odd miles cooped up in an SUV with a four-year-old and two symptomatic parents ...

The Tories fell into the trap of responding too early with a concerted orchestrated defence of Cummings on social media for "caring for his family". They look like scoundrels and wankers now that at least one if not two further trips have come to light - which I suspect the Mirror and Guardian, who've collaborated on the story, had up their sleeves all along.