Fri Aug 23, 2019, 06:17 PM
appalachiablue (23,062 posts)
Scottish University To Pay 20 Million Pounds In Slavery Reparations
Source:
Reuters
LONDON (Reuters) - Scotland's University of Glasgow said on Friday it would spend 20 million pounds ($24.4 million) to make amends for the historic financial support it received from people who profited from the slave trade.
The university said it was co-founding a Glasgow-Caribbean Centre for Development Research with the University of the West Indies to host events, sponsor research work and raise public awareness about the history of slavery. The money will be spent over the next 20 years, with funding mainly coming from research grants and donations.
"Talking about any institution's or country's historical links to slavery can be a difficult conversation but we felt it was a necessary one for our university to have," said Professor Sir Anton Muscatelli, Principal and Vice-Chancellor of the University of Glasgow.
"While you can't change the past, you can change (its) consequences."
Read more:
https://www.reuters.com/article/us-britain-slavery/scottish-university-to-pay-20-million-pounds-in-slavery-reparations-idUSKCN1VD12Q
---
- (BBC News).. Donations to the 1866-1880 campaign to build the university's current campus at Gilmorehill found 23 people who gave money had some financial links to the New World slave trade.
Dr Stephen Mullen, co-author of the report, "Slavery, Abolition and the University of Glasgow", said the city of Glasgow in the 18th Century contained major tobacco lords and the sugar aristocracy, many of whom were university alumni. He said the university benefited greatly from gifts and bequests from people associated with slave economies in Jamaica and the Caribbean. Dr Mullen said the research was the first report of its type in British history and Glasgow was the first university to acknowledge financial income from slavery on such a scale.
Since the report into Glasgow's past, other universities have begun to investigate whether they benefited from the slave trade. Cambridge University has started its own investigation and will consider how it might make reparation for any links to the legacy of the slave trade... More,
https://www.bbc.com/news/uk-scotland-glasgow-west-49435041
- (The Guardian) ..Glasgow University discovered last year it had benefited financially from Scottish slave traders in the 18th and 19th centuries by between 16.7m and 198m in today's money. In what is thought to be the first attempt by a British university to set up a programme of restorative justice, it has pledged to raise 20m for the centre, chiefly in research grants and gifts.
Other British universities, including Oxford and Bristol, have been the focus of protests over their ties to the slave trade and to powerful colonialists, such as Cecil Rhodes. Glasgow University played a key role in the abolitionist campaign of the era but until recently Scotland's profiteering from slavery, including from tobacco and cotton plantations, was largely ignored. One of its former rectors was Robert Cunninghame Graham, who spent two decades making his fortune as a slaver. Prof Anton Muscatelli, the principal of Glasgow University, said it was fitting the final ceremony took place on the same day as the International Day of Remembrance of the Slave Trade and its Abolition...
- International Day of Remembrance of the Slave Trade and Its Abolition:
https://en.unesco.org/commemorations/slavetraderemembranceday
More,
https://www.theguardian.com/uk-news/2019/aug/23/glasgow-university-slave-trade-reparations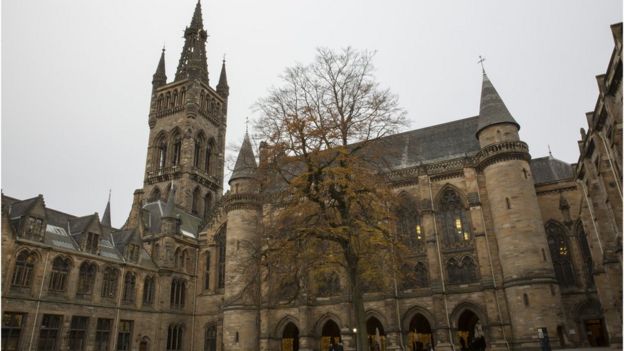 - The University of Glasgow
2 replies, 1042 views
Replies to this discussion thread
| | | | |
| --- | --- | --- | --- |
| 2 replies | Author | Time | Post |
| Scottish University To Pay 20 Million Pounds In Slavery Reparations (Original post) | appalachiablue | Aug 2019 | OP |
| | ChiTownDenny | Aug 2019 | #1 |
| | appalachiablue | Aug 2019 | #2 |
---
Response to appalachiablue (Original post)
Sat Aug 24, 2019, 11:32 AM
ChiTownDenny (602 posts)
1. Slavery is abhorrent.
Right now PBS is running a 7 hour series, "African Americans: Many Rivers". The first hour documents the African slavery trade; that is Africans enslaving and trading each other. The Egyptians, the Persians (Iraq and Iran), the Greeks, the Romans,... Slavery has existed throughout mankind. It still exists in our enlightened world. Who gets reparations and why?
In America, I support Affirmative Action. Not as a reparation for slavery but as a remedy for the systemic racism that has existed and continues to exist in this county. Our history of denying black people education, employment, and housing has to be remedied. As far as reparations, I'm Greek descent and I'm sure, based on my ancestral lineage, I'm owed reparations and owe reparations. In America, however, I haven't been denied education, employment, or housing based on my ancestral lineage. So, reparations? ....
---
Response to ChiTownDenny (Reply #1)
Sat Aug 24, 2019, 02:54 PM
appalachiablue (23,062 posts)
2. Henry Louis Gates is a national treasure and his PBS series