Thu May 2, 2019, 05:32 PM
TygrBright (18,174 posts)
The Sick Romance of Homophobia and Misogyny
...and why if you slay the dragon of homophobia you ALSO strike a killing blow at misogyny. (
Yes, I've turned my response from this thread into an OP at the suggestion of several responders.
)
Start with this beautiful image, the cover of today's TIME Magazine: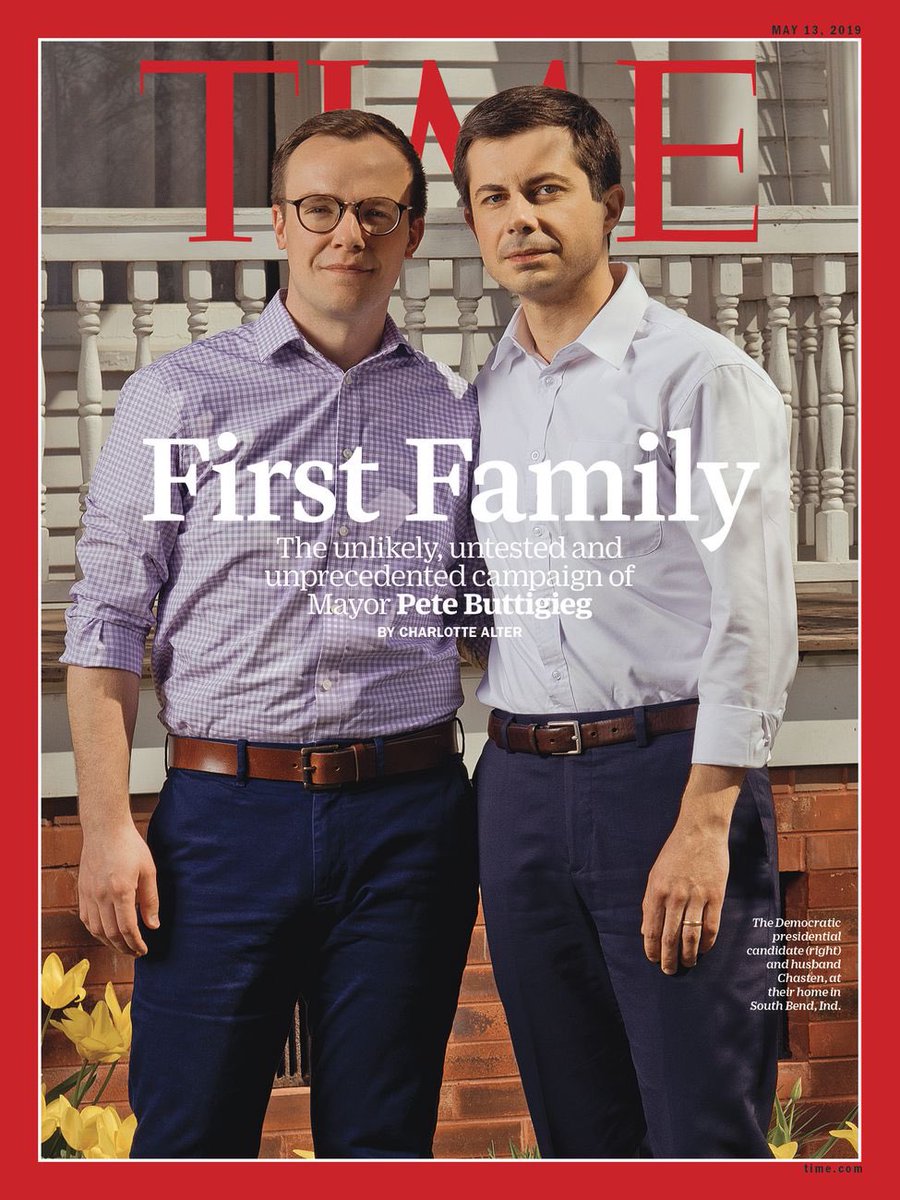 Sure, homophobia is definitely its own thing, and the whole "ick factor" of straight insecure males being terrified that they're going to be hit on by other guys... or that their daughters are going to take to comfy shoes and shack up with another woman... is rooted in its own existential inadequacy.
But homophobia is ALSO rooted, very deeply, in patriarchy, which rigidly defines gender roles, assigning them based on the supposed 'superiority' of the male and the 'inferiority' of the female.
The whole "traditional marriage is one man and one woman" thing goes back to that patriarchal requirement, heavily bolstered by (in the Abrahamic religious traditions and particularly the Catholic and Orthodox Churches) the tangled legal and economic webs of property assignment and inheritance.
I remember my genuinely ignorant but truly well-intentioned grandmother asking my gay sister, after she came out, "but if you and another woman are together, which one of you is the man?"
Cue a whole range of half-scared, half-mocking comments and queries about "tops" and "bottoms" in gay and kink relationships and a whole range of misogynist and patriarchally-fixated assumptions about "pitchers" and "catchers" in gay male relationships.
The assumption that a patriarchal misogynist culture has attempted to hardwire into us is that in any relationship involving sex, there is one party who "does it to" the other party. And the implication there is that the "doing it to" party is "the man" in the relationship, and the "done to" party is "the woman" in the relationship.
Gay people- and kink people- know that's bullshit. And that's a huge part of the reason that such sexual relationships have been outlawed and regarded as transgressive. It squicks the hell out of people who think in the patriarchal misogynist mindset that any two people in a sexually intimate relationship might actually both "do it" to each other and have it "done to" them in equal measure as their fancy dictates at any given time. That there might be a regular exchange of roles, and that power as expressed in sexual giving and receiving, soliciting and responding, might not be dictated by gender AT ALL!
HORRORS!!
And that is an often-unspoken but deep-rooted part of the objection to gay marriage- it does, indeed, 'destroy' the "traditional marriage" model in which gender dictates who does what and why.
Every gay marriage is also a blow at misogyny. I'm delighted for us all.
appreciatively,
Bright
10 replies, 1491 views
Replies to this discussion thread
| | | | |
| --- | --- | --- | --- |
| 10 replies | Author | Time | Post |
| The Sick Romance of Homophobia and Misogyny (Original post) | TygrBright | May 2019 | OP |
| | J_William_Ryan | May 2019 | #1 |
| | zaj | May 2019 | #7 |
| | guillaumeb | May 2019 | #2 |
| | colsohlibgal | May 2019 | #3 |
| | lunatica | May 2019 | #4 |
| | bobbieinok | May 2019 | #5 |
| | Bernardo de La Paz | May 2019 | #6 |
| | OMGWTF | May 2019 | #8 |
| | johannsyah | May 2019 | #9 |
| | MrScorpio | May 2019 | #10 |
---
Response to TygrBright (Original post)
Thu May 2, 2019, 05:40 PM
J_William_Ryan (1,062 posts)
1. It's all part of the authoritarian right's
fear of change, diversity, and dissent Ė and the desire of conservatives to compel conformity.

That unwarranted fear manifests as hatred toward gay Americans and women who dare to be independent and outspoken.

---
Response to J_William_Ryan (Reply #1)
Thu May 2, 2019, 07:53 PM
zaj (2,670 posts)
7. x100000000 Read this
This explains everything going on in the world.
---
Response to TygrBright (Original post)
Thu May 2, 2019, 05:48 PM
guillaumeb (41,965 posts)
2. Recommended.
It is also about power and control over others. An essential component of patriarchy, and of oppression in all of its forms.

And power uses division and hate to create the other, that scary and fearful other against whom "we" must be protected

Well and thoughtfully written as always.


---
Response to TygrBright (Original post)
Thu May 2, 2019, 06:03 PM
colsohlibgal (4,295 posts)
3. Haters Hate For Whatever Twisted Reason
Certainly one of these disgusting traits involves at least some self loathing, and some self hatred.

Beyond this itís hard to figure.

Kudos to Mayor Pete for changing at least some minds.


---
Response to TygrBright (Original post)
Thu May 2, 2019, 06:32 PM
lunatica (49,176 posts)
4. This is brilliant!
And it makes me so proud to be a DUer!

Misogyny was created by the men in power by depicting the feminine as weak, soulless, in need of punishment, ready to emasculate males at any moment, witches with demonic power and basically the weapons of Satan to snare man with their power. What this means is that the female is terrifying to men lest they should be overpowered. Any perusal of history, especially in religious cultures shows this clearly. Itís an easy jump from fearing and hating women to fearing and hating men who are perceived as women.
---
Response to TygrBright (Original post)
Thu May 2, 2019, 06:49 PM
bobbieinok (12,786 posts)
5. Read that there is a study that stated prison workers viewed only the 'bottoms' as gay
Reason? Bottoms acting 'female'.

IIRC study was from 30s or 40s.
---
Response to TygrBright (Original post)
Thu May 2, 2019, 07:48 PM
Bernardo de La Paz (34,557 posts)
6. Tremendous post! Well worthy of being an OP. Thank you. . . . nt
---
Response to TygrBright (Original post)
Thu May 2, 2019, 08:20 PM
OMGWTF (1,127 posts)
8. Science has shown that homophobes are often self-loathing, closeted homosexuals
---
Response to TygrBright (Original post)
Thu May 2, 2019, 08:39 PM
johannsyah (53 posts)
9. I would really love to get that issue
too bad I'm staying overseas till next year
---
Response to TygrBright (Original post)
Thu May 2, 2019, 08:55 PM
MrScorpio (72,383 posts)
10. I just noticed that Chasten took on Pete Buttigieg's last name JUST LAST MONTH...
Even though they've been married since June of last year, up until recently, they had both kept their original surnames.

If they had decided for one to take on the other's surname at the time of the marriage and before Pete became a credible presidential candidate, the shoe could have been on the other foot... We could be talking about "Pete Glezman" instead.

Sure the timing of the name change and the decision to go with "Buttigieg" could be deemed as a political maneuver. However I do think that this is a very important statement, in that they are fully invested in emphasizing that they are going forward as a married couple and that they're also saying that American politics is now ready for a gay couple.

That Time cover memorializes a very important milestone for everyone.